We are very proud to announce 25th commemoration of the most selled and popular videogame of all times, cast by one of most loved and famous characters of videogames, our dear: Super Mario Bros, para NES.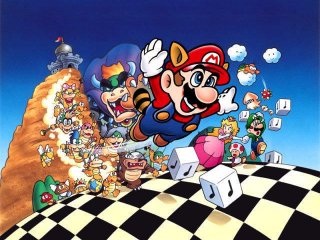 To get this, Retromadrid will be transformed, offering an space in order to the old children (thirtiers of now) will get into Mario's World in real-size.
Computers University will be converted in an space full of surprises related to Mario. We will organize a contest of "cosplay" in which Nintendo will gift a Wii black edition with five games of Mario to the visitor with the best costume based in Mario's Universe. In the same way we will have the chance to create new scenaries of this game and be photographed with Mario, so don't forget to take your camera this day.
So, AUIC will inaugure the fair with-in an special way, so we will be ver proud to present you "1UP duet", composed by the musicians Luis Miguel García Bailón and Victor Barbero Romero, so with their violin y cello, will sync "Super Mario Bros" levels (recorden in a video edited by Guillermo Cerdá) with their music played in live, a piece called by them "Mushroom suite" (adapted and amplied from this video).
Complementing this concert, the artist Paola Tognazzi will present Wearable_Supernow, thanks to brazalets developed with Wii pads and an specific software to communicate with them will let us to play "1UP duet" with their own instruments and their own bodies.
To all of this, we add the talk "Mario, del andamio a las 3D. Quién te ha visto y quién te ve...", in such we have made with all of our illusion with humour and special moments. By the way, we have invited to our favourite plonder plumber to join us, we hope he accept our invitation, because we have prepared a pie to receive him and sing "Happy Birthday". You are commited to join us next 13 de Marzo to celebrate it with all of us.